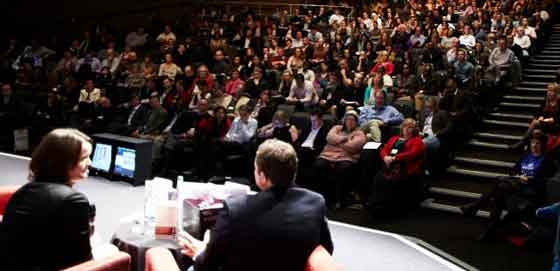 Ever wondered just how long it's going to take to heal from your divorce? I know I did when I was going through my divorce. 
I was also given this challenging and critical question live on-stage by my interviewer recently, and I wanted to share my answer here, and also go into a little more detail and a little more science than I was able to at this live event. So here goes…
First of all – I need to define what 'Getting Over Divorce' actually means?
Getting over divorce is like having an orgasm…
In this regard Getting Over Divorce is a bit like having an orgasm… It's hard to define, but you know it when it happens!
My clients often describe this as feeling 'themselves again', 'complete', 'in-control', 'the best version of themself', 'the real me', 'empty and free'.
There are many different expressions but there is also a similarity between them.
What I see is a real and healthy sensation of clarity and void of emotion which I shall call 'space' or 'emptiness'. A mental space that was previously full of sometimes rage, confusion, anger, loss, sadness and more has been vacated that provides the space for opportunity and hope.
They realise that the future IS back in their hands, that they ARE in control, and that EVERYTHING is possible, and achievable. It's a very special moment.
A lot has to happen to allow this kind of transformation to happen, and when it happens it is like a switch has been flicked. It is not a gradual and slow process. There is also 7 years of intensive work which goes into creating the environment for these kinds of breakthroughs and transformations. It's no accident.
If I may return to the unlikely orgasm analogy, there may be some gradual build up before, but when the breakthrough happens it happens very powerfully and very profoundly. You will absolutely know when a breakthrough has hit you.
That said, this does not mean that you will never ever think about your ex-partner ever again. It does not necessarily mean that you think your ex-partner is your best friend BUT it does mean that you are past it. You have accepted that your divorce happened, and that it will always be a part of your history, but very critically it is NOT a part of your future.
Traditional Therapy
When I was going through my divorce I spoke to several traditional therapists. The three I spoke to all used a similar 'calculation' to give me an answer to this question – here's their maths…
1 year of marriage = 6 months of therapy (min 1 session per week).
Additional connected trauma will extend the duration further.
So at 5 years of marriage, plus the additional trauma that I had as a child (I was born without fully developed hip sockets), and the infidelity (18 affairs), it would take at least 3 years of on-going therapy.
3 friggin years! That's simply not acceptable. Given my background in corporate change management and my commitment to producing results quickly, this antiquated thinking just didn't jel with me.
3 critical elements
I now know that there are three critical elements that dictate the duration of time it takes to heal from divorce. They are;
How MOTIVATED you are to do the necessary work to transform
How EVOLVED emotionally and personally you are, this may include how exposed to personal development you have been in the past
How INTENSIVE your divorce-coaching / therapy is

For the purposes of this article I will focus entirely on number three – intensity…
Another approach
Let's take a different look at this same question using a different topic. Let's look at fitness…
How long does it take to get 'fit'? It's hard to define, right? You could argue it takes years, or indeed a lifetime of regular work to get 'fit'.
The work is in reality never ending.
This is the thinking of the traditional therapists. It's ongoing, often a lifelong pursuit. There is no finish line, there is no agreed result, there is no end date. The work continues indefinitely – or until you run out of funds.
Now let's ask a slightly different question – let's ask how long does it train to run a marathon?
Because we have given the question more definition, we can better answer it. A few questions also may arise:
Are their variables that effect your training?
Does everyone improve their fitness at exactly same rate?
Will they all achieve the same race time?
Do they all start from the same position?
The answer to all these questions is of course No.
However, we can still say with some justification and a significant amount of proof that if one trains 3 times per week, one can get fit enough to complete a marathon with 6 months of training.
3 times the intensity can equal 5-10 times the results!
Aside from the initial fitness level the biggest influencing variable that defines how long it takes to achieve the result is one thing. "Intensity"
Intensity
It stands to reason that the person that trains once per week will not advance at the same rate as someone that trains three times per week.
It is also worth noting that at just once per week the fitness levels progress at a very slow level indeed. I would argue that anyone only training once per week will never ever ever ever be fit enough to run a marathon. Think about that…
Performance increases exponentially with intensity
At three times per week, the fitness level does not increase at three times the rate – it increases exponentially. SO you might even progress at 5-10 times the rate.
So very realistically 3 times the intensity can easily equal 5-10 times the results.
The Science
Scientists tell us that most of the universe is filled with nothing.
Tom Stoppard explained the emptiness of atom like this, 'if the nucleus is like the altar of St Paul's Cathedral, an electron is like a moth in the cathedral'. Even in something as small as an atom, it is mostly full of nothing.
If all the 'emptiness' was removed, the entire human race could fit into a volume less than the size of three sugar cubes (ref: http://www.physics.org/featuredetail.asp?id=41). Isn't that amazing??
If we remove all the emptiness out of the healing process is it not possible to condense that down into just a few weeks?
So if we could remove all the emptiness out of a the transformational healing process is it not possible to condense that down from 3 years into just a few weeks? In a word Yes!
Heal in just 21 days
The Naked Divorce's most popular course is typically completed in 21 days. We achieve this because it's intensive. Work and exercises are completed each and every day. It's a demanding course, it takes energy, commitment, focus and support to complete it.
To be absolutely clear, I am not only saying that we can achieve 3 years of therapy in just 21 days. What I am saying is – you achieve much greater, much bigger results, with much more mental fitness in 21 days than can ever be achieved by 3 years of non-intensive traditional therapy.
We have many participants who were stuck in therapy for over 6 years who finally healed with this program. A lot of them are therapists themselves, who wanted to learn a better way.
The reason I created this programme is because no one wants to spend 6 years of their life suffering. Time is the one commodity you can NEVER get back. So rather than wait for time to simply pass whilst assuming it will heal the wound – just get on with the process intensively and MOVE ON. There is a valuable life to be getting back to.
Recover from Divorce in 21 days
Retreats. When 21 days it just too long
A year ago I launched the Naked Divorce Haven Retreat. A seven day version of Naked Divorce for our elite/ executive class participants who really don't have the luxury of time to be suffering. Where, and yes you have guessed it, the course is even more intensive.
This is for the high achievers, for those that are very committed to their better future.
We have a lot of CEOs of Fortune 500 companies, country managers, business owners, judges, lawyers, doctors, etc. that join us on the Divorce Haven Retreat (I'll reveal the most popular profession that attend a little later).
We achieve this by defining the space, the location and the environment better. All consultations are completed face-to-face, in-person, and in private. As a result the intensity is much higher.
The intensity is much higher… The results are even more powerful
The results are even more powerful, even more profound, and even more swift. For total disclosure I should point out that whilst the retreat is only 7 days, we do start build-up work prior to the retreat, and there is ongoing support afterwards included so it does take a little more than just 7 days to achieve the full result.
This reality of course is very confronting to traditional therapists. I'll be open and tell you that many do not believe in this process. Not one of these doubters have actually done the course!
You also might like to know that the most popular career of all our customers are, did you guess?
Yes therapists, and physiologists. Now doesn't that say a lot? We have had psychiatrists send their patients to us (with doctor's notes), medical professionals who advise patients to do our programme and psychologists who do the programme quietly without ever saying anything about it.
Here are a few words from what they said about the course…
Get Over Divorce in just 7 days
(Divorce Retreat)
Testimonials from therapists and physiologists that have completed the Naked Divorce programme:
"Really, really cool experience. Utterly life-changing"
Cecile Fontan, Psychologist
"Naked Divorce was the answer to my prayers"
Elizabeth Q, Emotional Therapist
"You can't go very far without dealing with your emotions rather than suppressing them"
Dr Sindiyo, Clinical Psychologist
"Incredible structure… I really did experience a complete state change by the end of the course"
Mandy, Life Coach and Financial Therapist
"I am simply blown away by the powerful transformation"
Stephanie Burton, Love Coach
"Incredible experience. I learnt more about relationships from Naked Divorce than in 22 years practicing as a psychologist"
Dr Ayse Sahin, Clinical Psychologist
"The more time you take to heal, the more self indulgent you get. Better to do something like Naked Divorce to focus on healing"
Dr Nea Clark, Clinical Psychologist London
So, the bottom line is if the award-winning Naked Divorce is their chosen programme for healing and they refuse to take the time to heal, why aren't they telling you that healing faster is possible?
The average person going through divorce therapy spends USD 6,799!
Possibly because the average person going through divorce therapy spends USD 6,799 to heal from divorce… Food for thought!
Ultimately it's your actions that count!
Get busy living and take positive pro-active action to get over your divorce.
You can learn more about me as a divorce coach here, the Naked Divorce Emotional Freedom program here, or the The Haven Divorce Retreat here.
If you enjoyed this post, I'd be very grateful if you'd help it spread by emailing it to a friend, or sharing it on Twitter or Facebook.
With you in service



Book a Clarity Call for any divorce or break up support you need,